Effective development, assessment and management of complex safety cases and assurance cases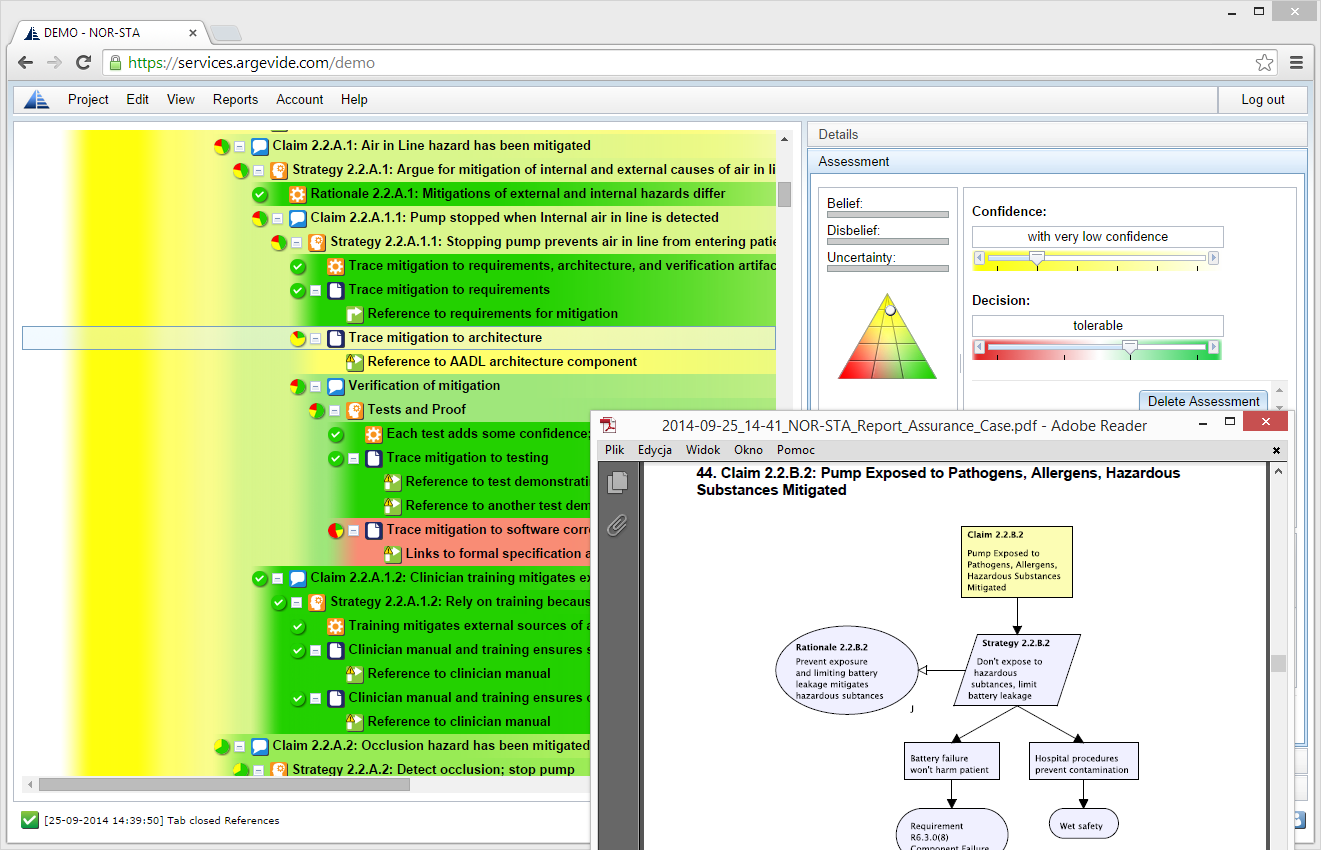 An assurance case is structured argument, supported by evidence, used to demonstrate that a system exhibits some complex properties such as safety, security or reliability in a given environment. Assurance cases focused on safety are usually called "safety cases". Depending on the goal of an assurance case it can also be called a security case, dependability case etc.
NOR-STA main features
Online multiuser access to the application
Editing complex assurance cases
Managing modular argumentations
Argument templates
Use of NOR-STA or external evidence repositories
Assurance case assessment (8 different assessment methods)
Excel, XML and HTML configurable reports
XML export / import
Managing user permissions
Compliance with ISO/IEC 15026 and OMG SACM
Benefits
Managing complexity

Effective development and management of complex assurance cases due to use of hierarchical notation and easy argument structure management functions

Integration with repositories

Integration with internal NOR-STA evidence repositories as well as external repositories managed by the user
Assessment

Making assessments with the use of a dedicated assessment scale and a clear presentation of the results

Teamworking

Online NOR-STA system enables user permissions management, traceability of all actions and other features supporting teamworking
Compliance with ISO/IEC 15026

Compliance with ISO/IEC 15026, which defines requirements for assurance case contents

Easy administration

Managing multiple projects (separate assurance cases) and evidence repositories, version history and change management
Compliance with OMG SACM

Export/import of XML files compliant with OMG SACM metamodels

Reporting

Customizable reports, adaptable to the user's needs
NOR-STA assurance case notation
In our practice we have been working on arguments consisting of over 3000 elements. Such arguments are difficult to comprehend and the problem is even worse if you have to modify the argument or maintain it over a period of time.

While working on an argument you often switch from a global view where you consider the overall structure of the argument to a local context where you work on a single argumentation step.
NOR-STA uses the argument representation which is highly consistent with the logical hierarchy of arguments and can be used efficiently even for large and complex arguments.

We use left-to-right representation of the hierarchy like the structure of file system directories – it allows to start with a high level overview and then browse the more detailed parts of the argument which are of user's interest.