Argevide offers online trainings that will give you practical skills to effectively develop and manage assurance cases including use of modular arguments and templates.
Assurance Case Training
September 15, 2022
Assurance cases are used in many domains to manage and demonstrate system properties like safety and security. The right understanding of the argument structure is essential for its effective use. The main goal of the course is to provide skills to use proper and effective argument structures, develop defensible arguments, and review assurance case quality.
The course program
The goals of assurance case development
Assurance case structure
Well defined claims and context
Reasoning steps
Supporting evidence
Using of assumptions
Managing defeaters
Reviewing the assurance case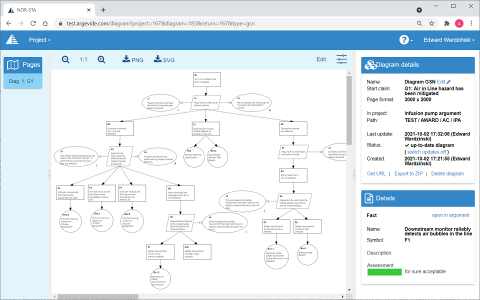 During the training we will work on a sample assurance case. We will also develop an argument and analyse its elements. Participants are free to propose extensions of the argument and discuss different approaches of structuring the argument.

Assurance cases will be discussed using NOR-STA tree view of the argument and also GSN diagram view. Each training participant will get individual user account on Argevide NOR-STA server to participate in the training. The user account will remain active for 30 days after the training.
Who should attend the training?
Engineers and assurance professionals who are developing or reviewing assurance cases.
Learning outcomes
Understanding of the assurance case structure
Skills to develop defensible arguments
Prerequisites
Basic understanding of assurance cases and their use would be useful
Basic knowledge of NOR-STA functions would be useful but it is not required
15.09.2022  from 9:00 to 16:00 CET (Central European Time).
Early registration until 30.08.2022
Custom courses are also available on request. We can provide dedicated trainings for your team at agreed dates. Please contact us when you have any questions or inquiries.